092: Kim Scott on Radical Candor, Results & How Good Praise Challenges Us to Do Better Work
Tuesday 18th June 2019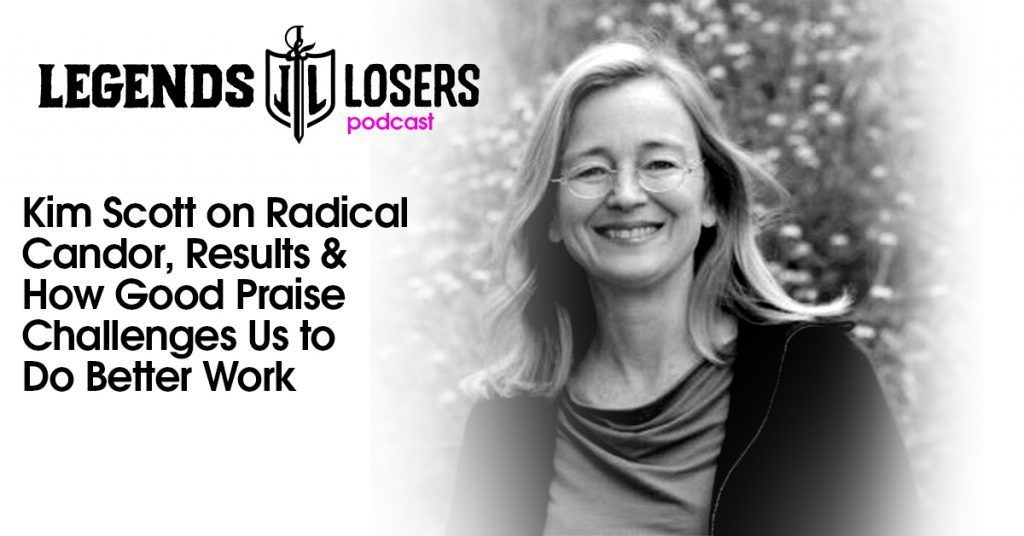 Podcast: Play in new window | Download (Duration: 1:08:37 — 62.8MB) | Embed
What's it like to pitch the founders of Google? How does it feel when Sheryl Sandberg informs you that you sound stupid? What does it mean to be radically candid? Here are the three things we learned from Kim Scott on using radical candor to raise performance, lead our teams more effectively, and set high standards.
"Radical candor gets measured not at your mouth, but at the other person's ear." – Kim Scott
3 Things We Learned:
Radical candor can change the course of your life.
Sheryl Sandberg's intervention set Kim on a new course, hiring a speech coach and even laying the foundation for what she now travels all over the world speaking, writing and training on – radical candor. If Sheryl hadn't intervened, Kim probably would never have realized how she was showing up in pitches or public speaking, and her career and business would have been limited as a result. Radical candor means truly doing and saying what's best for the person, not just keeping the peace.
People in larger organizations exaggerate risk.
People are often more concerned with their reputation than results. When you start to show up with radical candor, 9 out of 10 times the response will be positive. But that 10th time you might get a negative response. People in big companies often overreact out of fear of the downside and forget about the upside of radical candor. Follow the example of companies like Apple and Google. Worry about your reputation less, and focus more on leading people to deliver results.
Good praise challenges us to do better.
Praise is much more than a way to show we care personally. Good praise challenges us to do good work, shows others what success looks like and encourages us to come up to that level. On the flip side, criticism is also unfairly associated with direct challenge, without the element of care. That's why the Shit Sandwich doesn't work, it only results in bad praise and bad criticism. Radical candor means helping people raise their performance, setting the bar higher and encouraging them to meet that higher standard.
Radical candor takes emotional discipline. Most people who start to show up with radical candor in their business conversations find themselves backing down when the other person gets upset. But is that what's best for them, and especially our team, who are accountable to deliver results? Rather than backing down from the challenge, it's time to step up on the personal caring dimension. Emphasize that your criticism is for a purpose – to challenge them to a higher standard, and support them to meet that standard.
Guest Bio
Kim Scott is the author of the NYT & WSJ bestseller Radical Candor: Be a Kickass Boss without Losing your Humanity. Kim led AdSense, YouTube, and Doubleclick Online Sales and Operations at Google and then joined Apple to develop and teach a leadership seminar. Kim has been a CEO coach at Dropbox, Qualtrics, Twitter, and several other tech companies.
Previously, Kim was the co-founder and CEO of Juice Software, a collaboration start-up, and led business development at Delta Three and Capital Thinking. Earlier in her career, she worked as a senior policy advisor at the FCC, managed a pediatric clinic in Kosovo, started a diamond cutting factory in Moscow, and was an analyst on the Soviet Companies Fund and has written three novels. Lean more at radicalcandor.com, and follow Kim on Twitter @kimballscott.