090: Matt Straz on Supporting NYC After 9/11, Building Beautiful Software & Differentiating on Experience
Thursday 20th June 2019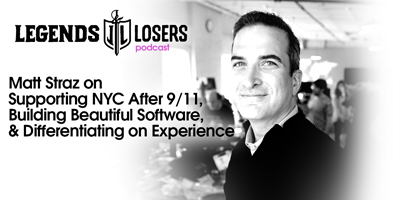 Podcast: Play in new window | Download (Duration: 1:28:24 — 80.9MB) | Embed
The best innovators are the people who are experiencing a problem. What's the connection between legendary founders and passion? What is the difference between finding investors on the East and West Coast? After cash flow, what is the next thing companies have to care about? Here are the three top things we learned from Matt Straz of Namely.
The only person in the company that's expected or hopes to scale infinitely is the founder. -Matt Straz
3 Things We Learned
There's a correlation between legendary founders and inexperience
When you unpack legendary innovators and entrepreneurs, they are the people experiencing the problem. Passion around the problem is the real thing that makes them unstoppable, not experience in the space. The entrepreneur that has the pain and the insight, is capable of way more than someone who knows all about the space.
At a certain point, people and talent start to get more important than financials.
When a company has between 10 and 50 employees, cashflow is king. Your finance system is your major and primary system of record because you have to stay in business. Once you get over a certain size, it's actually the talent that will decide how much bigger you will grow.
Without the ability to measure the data, and evaluate performance you can't be sure you have the best talent.
In every company, almost everyone is supposed to get on and off at a different point
The people you work with can only scale to a certain amount, so it's normal for people to get on and off the bus because they are more tuned to one stage than the other. The only problem with people is that getting off the bus makes them angry, but we should accept that businesses go through stages. If we are all self-actualized we won't take offense, because we are clear on our strengths and weaknesses.
What makes the most impact is having passion around a problem and finding its solution. The entrepreneur that has the pain and the insight will go further than someone who knows everything about industry. The world needs more entrepreneurs who bring a new energy, and this expands our world, because if there are no entrepreneurs there's no economic or innovation growth. We should be self-actualized enough to know what our strengths and weaknesses are and know that the people who get a company off the ground won't usually be the same people to scale it. Remember that leaders are evaluated by the talent around them.
Guest Bio
Matt Straz is the founder and CEO of Namely, the HR and payroll platform for the world's most exciting companies. Go to http://www.namely.com/ for more information and find him on LinkedIn https://www.linkedin.com/in/mattstraz/.