083: Creativity Rules: Stanford Professor Tina Seelig on Framestorming, Starting Small & How to Encourage Creativity
Sunday 19th May 2019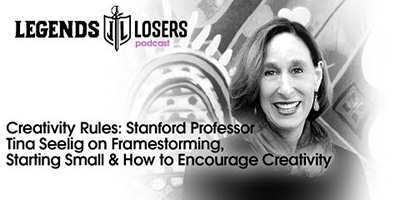 Podcast: Play in new window | Download (Duration: 1:19:37 — 72.9MB) | Embed
What does it take to solve big problems? What if we don't consider ourselves creative? How do we get un-stuck when we finally get a BIG idea? We sat down with Dr Tina Seelig, Stanford professor, best-selling author and creativity expert, to find out how to encourage our natural creativity and problem-solving ability. Here are the three things we learned from this legendary leader.
Creativity is a natural state, but our school and work systems beat creativity out of us as children. – Dr Tina Seelig
Creativity Is Our Natural State
Some people are naturally more creative than others, just like athletes. Michael Jordan is a great example of someone who overcame a lack of physical gifts with sheer hard work. Children start off with incredible creativity. Creativity is a natural state, but our school and work systems beats creativity out of us as children. All we have to do is reshape and reframe our environment to encourage creativity instead of squashing it.
Framestorm Before You Brainstorm
It's very easy to get attached to a particular approach to solving a problem. One of the biggest missed opportunities in problem solving is reframing. Dr Seelig explained, "I'm a big fan of framestorming. Framestorm before you brainstorm." Fall in love with the problem first, and brainstorm different "frames" for the problem before you start brainstorming solutions. We can even practice framestorming in our everyday life. "I keep reminding myself, when people are doing something that doesn't make sense to me…I'm going to assume the best as opposed to the worst."
When You Have a Big Idea, Do Something Little
When people have a big idea, they often get bogged down with the question, "What do I do now?" Dr Seelig's advice is to do something very small. Just take the first step. Do tiny little experiments to see if you're heading in the right direction. When one of your little experiments goes well, it gives you the energy for bigger experiments and bigger steps toward your big idea.
Some people look at the world as one right answer, where certain pieces fit in a certain place to produce a certain result. But one piece goes missing, and puzzle-builders get stuck. On the other hand, quilt-makers define success for themselves, start small, and if there's a missing piece, they fill it in with something else and keep moving toward their goal. As a result, those with a quilt-maker mindset become much more successful. Be a quilt-maker, not a puzzle-builder.
Guest Bio
Dr. Tina Seelig is an award-winning educator and best-selling author of 17 books, including her latest, Creativity Rules. Dr Seelig is Professor of the Practice in the Department of Management Science and Engineering (MS&E) at Stanford University. She is also a faculty director of the Stanford Technology Ventures Program (STVP), the entrepreneurship center at Stanford University's School of Engineering. Dr Seelig has received the SVForum Visionary Award, the Gordon Prize from the National Academy of Engineering,  the 2014 MS&E Award for Graduate Teaching, the 2008 National Olympus Innovation Award, and the 2005 Stanford Tau Beta Pi Award for Excellence in Undergraduate Teaching.
Download the latest episodes, subscribe and review Legends & Losers on iTunes. Then go out and #BeLegendary