081: Podcasting Roundtable Part 2: Keys to Using This Legendary New Media
Thursday 20th June 2019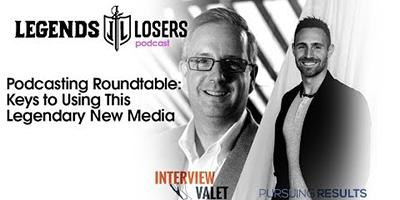 Podcast: Play in new window | Download (Duration: 48:44 — 44.6MB) | Embed
Everything around podcasting is growing, from number of shows to the number of active listeners, and ad dollars are starting to flow where the ears are. What does this mean to you? In this episode we continue our roundtable conversation with 2 podcasting experts, Tom Schwab of Interview Valet, and Matt Johnson, founder of Pursuing Results, the podcast production company that powers Legends & Losers.
The more inane, inconsequential, irritating BS there is in the world…there seems to be a huge part of the world that's craving something real, authentic, that isn't holier than thou. – Christopher Lochhead
Podcasting Is the New Blogging
Podcasting in 2017 is very similar to blogging years ago, as it tipped from a niche strategy into the mainstream. With the right production team, it's much easier to produce a podcast episode than to write a blog post. And podcasting goes hand-in-glove with the trend away from written content and toward video and audio on social media. Big names like Tony Robbins, Slack, Shopify, Andreessen Horowitz and GE have all jumped into the podcast game with professionally produced shows as part of their marketing strategy, with many more to come.
Podcasting is the Only Medium for Raw, Authentic Dialogues
In the words of blind adventurer and L&L guest Erik Weihenmayer, "The world doesn't need more bull$#%!." Where else can you eavesdrop on unfiltered, freeform conversations with people like General Stanley McChrystal, Ann Miura-Ko or Judge Kelvin Filer? If any of these incredible people were profiled on 60 Minutes, you might get 8 minutes of content, mostly interview sound bytes and reporter fluff. Podcasting is the only medium that gives you a real sense of who they are, the struggles they've overcome, and lessons you can take away from their experience.
Podcasting Allows You To Reach Far More People Than You Can Speak To Live
If you're an aspiring thought leader, and you want to perpetuate your "thoughtness," you probably wouldn't pass up the chance to speak in front of 200 of the right people. And it would take you around half a day, between scheduling, preparation and travel, to reach those 200 people. Contrast that with podcasting, where the average show gets 200 downloads, but you can reach those people from your home with minimum time invested (possibly without even putting on pants).
Trends are like tidal waves. There are two ways to position yourself for a tidal wave; let it carry you, or let it bury you. Podcasting is one of those tidal wave trends. Soon the question won't be, "What's a podcast?" it will be "What's your podcast called?"
Guest Bio
Tom Schwab is the CEO and founder of Interview Valet, which helps connect thought leaders and experts to podcast hosts to grow their business through podcasts. Tom has been featured on over 1000+ podcasts, unofficially the world record holder for podcast interview appearances. Learn more about Tom and Interview Valet, which handles all Christopher Lochhead's podcast interviews (among many others) visit http://interviewvalet.com/why-choose-interview-valet/.

Matt Johnson is the CEO and founder of Pursuing Results, a podcast PR and production agency. Pursuing Results produces legendary podcasts for legendary entrepreneurs, thought leaders and companies. In addition to producing Legends & Losers, Matt co-host popular live video podcasts like Real Estate Uncensored, the Team Building Podcast and Level Up. Learn more at http://pursuingresults.com/.
Download the latest episodes, subscribe and review Legends & Losers on iTunes. Then go out and #BeLegendary