079: Purpose Before Profit: Tony Tjan on Leadership, Wholeness & Solving Big Problems Part 2
Tuesday 18th June 2019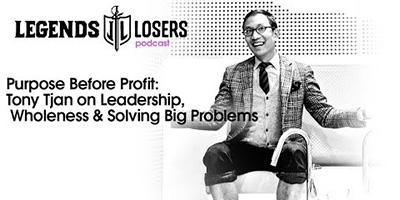 Podcast: Play in new window | Download (Duration: 1:04:01 — 58.6MB) | Embed
Great leaders aren't in the business of creating followers, they're in the business of creating other leaders. To build a team of leaders, we have to value what we can't measure. Chemistry, care, love, respect, wisdom, positivity and especially wholeness, in ourselves and others. Here are the 3 things we learned about leadership, solving big problems and generating long-term value from entrepreneur, venture capitalist and New York Times best-selling author, Tony Tjan.
The greatest competitive advantage is when you deliver someone intrinsic meaning. – Tony Tjan
Great Leaders Put Purpose Before Profits
Financial results are a byproduct of giving our people intrinsic meaning. In other words, purpose. When we help people have a higher expression of themselves, we'll get the best out of them, and we'll get great value creation. Tony believes that companies with the strongest, long-term competitive advantage take a long view, stay very authentic, and have great care and respect for their colleagues. As Tony points out, "Authenticity will never go out of fashion."
Great Leaders Don't Iterate & Fail Fast
If we want to solve real BIG problems, we can't have a short term time frame. Tough problems require purposeful innovation and data-driven feedback from real customers and stakeholders. Transforming an entire industry takes time, so stay patient, ignore all the ebbs and flows and focus on the long view.
Great Leaders Embrace Vulnerability
Entrepreneurship and leadership is about walking the line between vulnerability and conviction, and understanding that the two are sometimes at odds with each other. As leaders, we must understand that we have a duty to serve. We are here to create more leaders and meaningful roles for them in our companies. We spend 70% of our time at work, so let's surround ourselves with great people, with great competency and great character, and help produce more of them.
Great leaders don't define success by their IPO or the company bottom line. Great leaders define success by the lives they change. Without authentic care and respect for the people around us, especially within our companies, all our leadership training, all our mentorship programs, all our team building exercises, will fail. To build great teams that solve big problems and achieve big financial success, we must put purpose before profit.
Guest Bio
Anthony (Tony) Tjan is CEO and Managing Partner of Cue Ball, leading the firm's overall direction, including deal development, on-going guidance and mentorship to the leadership of Cue Ball's portfolio companies. Tony is one of the World Economic Forum's Global Leaders for Tomorrow, a TED conference speaker and New York Times best-selling author of Heart, Smarts, Guts & Luck, and Good People: The Only Leadership Decision That Really Matters.
Download the latest episodes, subscribe and review Legends & Losers on iTunes. Then go out and #BeLegendary