072: Cameron Herold On Great COO's & How To Reverse Engineer Your Vivid Vision
Thursday 20th June 2019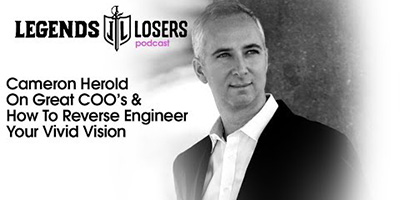 Podcast: Play in new window | Download (Duration: 1:40:58 — 92.5MB) | Embed
Great entrepreneurs and CEO's can set a big vision for their business, but often lack the character traits to steer their business to that vision. That's where great COO's come in. Here are the 3 key things we learned about great COO's, Vivid Vision and reverse engineering from Cameron Herold, serial entrepreneur, business growth guru and founder of the COO Alliance.
I've never had a unique idea in my life, but I can always reverse engineer dreams. Cameron Herold on the role of COO's
Great COO's Strive to Make the CEO Iconic
What makes a great COO? Truly knowing what their role is and staying in their lane. The best COO's don't play out of position or consider themselves a CEO-in-Waiting. Instead, they wake up everyday on a mission to support the CEO. The best CEO/COO teams each have different areas of the business they prefer to focus on, so they naturally complement and reinforce each other's efforts.
Vivid Vision is Reverse Engineering the Future
High performance athletes visualize themselves in a future state so they can act on instinct in the moment. When setting your Vivid Vision, lean out 3 years and describe every aspect of the company. Every department,what it feels like to come into the office, what the media are saying, what employees are saying, describing everything in great detail. This starts as a mind map and ends as a 4-5 page document. When people can see your Vivid Vision, they naturally conspire to help certain elements of your vision come true.
Embrace Your Bipolar Side; Don't Medicate It
The medical community has nicknamed bipolar disorder "The CEO Disease." Of the 11 traits that describe bipolar disease, the average entrepreneur can identify with at least half of them. Cameron has come to believe that the mania and ADHD of bipolar in great CEO's is often the very traits that cause people to follow them. If you medicated those traits out of a great CEO like Steve Jobs, he would no longer be a great CEO. So instead of medicating those traits, we should teach people entrepreneurship.
Whether you're the CEO or the COO, it's crucial to understand the relationship between those two roles. A great COO is much more than a CEO-in-Waiting. He or she is the yin to the CEO's yang, helping to reverse engineer the CEO's vision of the future and pull the present toward that vision.
Guest Bio
Cameron Herold is the founder of the COO Alliance as well as a serial entrepreneur, author and top-rated international speaker. Cameron's books include Double Double, Vivid Vision, Meetings Suck, and his latest, Miracle Morning for Entrepreneurs. Cameron is known as a business growth guru and CEO Whisperer, and speaks around the world at CEO and COO events. Learn more and download Cameron's personal Vivid Vision at CameronHerold.com.
Download the latest episodes, subscribe and review Legends & Losers on iTunes. Then go out and #BeLegendary