071: One CEO's Journey From The Dark Side to "Killing It" w/Sheryl O'Loughlin (Clif Bar, Plum Organics & REBBL)
Tuesday 18th June 2019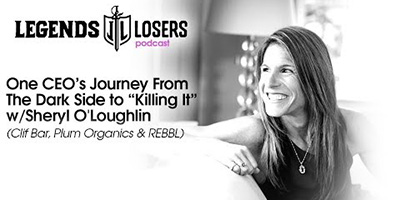 Podcast: Play in new window | Download (Duration: 1:33:45 — 85.8MB) | Embed
How do you attack categories with existing kings? How do you compete with retailers offering competing products at a loss? How do you recover from losing everything in your 40's? Here's what we learned from Sheryl O'Loughlin, former CEO of Clif Bar and current CEO of REBBL super-herb beverage, on her journey in product design and category domination in the health food space, dealing with anorexia, and how to build a mission-driven culture.
98% of all startups fail in terms of financial success. So why are we creating a definition of success, for something we put our heart and soul into, based on a number that most people will never make? Sheryl O'Loughlin, CEO of REBBL, former CEO of Clif Bar
Don't Take On A Category King On Their Terms…Redesign the Category
During her time at Plum Organics, Sheryl entered an existing market, but she entered differently from most entrepreneurs or executives. She didn't attack the existing category with a message of "our product is better." Sheryl had a Point of View on how the category should be, went on a purposeful mission to educate the market on her Point of View, and then redesigned the category by launching an entirely new type of product. The end result? Plum Organics grew to $100 million in revenue in less than 5 years and sold to Campbell's Soup, an unbelievable accomplishment for a physical product company.
Beware of the "Dark Side" of Entrepreneurship
After Sheryl and her husband lost everything in their 40's, Sheryl ramped up her exercise, diet and weight loss regimen to gain a sense of control. She eventually realized that she had developed anorexia and depression, started working with a therapist, and began the long road to recovery. Studies are starting to show that many entrepreneurs have traits, such as ADHD, dyslexia, executive function and bipolar disorders, that make us more susceptible to depression and addiction. We have to especially be on guard in those times when we feel out of control. The solution is to not allow your self-worth to be tied to your net worth. Embrace your life outside work and get your priorities in balance.
Temper Your Aggressiveness with Vulnerability
Being vulnerable with your co-founders or board members builds a level of trust that can carry a company through hard times. That's the kind of relationships entrepreneurs should be looking for. Not that you need to be vulnerable every second of the day, but more and more entrepreneurs are beginning to recognize the yin and yang balance. There's a time to be competitive and aggressive, and there's a time to be vulnerable. Each has it's proper place.
For more on Sheryl's entrepreneurial journey and how to take care of your life while building a category king, check out Sheryl's new book "Killing It," and stay up with her latest venture, REBBL, an emerging category king in the super-herb beverage category.  As Sheryl says, "You are your best leader when you can have bold humility…It's the magic between those two tension points where you find your best leadership."
Guest Bio:
In addition to her stint as the CEO of Clif Bar, where she introduced the world to Luna bars, Sheryl co-founded and served as CEO of Plum Organics and is now serving as CEO of REBBL super herb beverages.  One of her favorite roles was mentoring budding entrepreneurs when she was the executive director at the Center for Entrepreneurial Studies at the Stanford Graduate School of Business.