068: Legendary Health Tech Venture Capitalist Bryan Roberts of Venrock
Tuesday 18th June 2019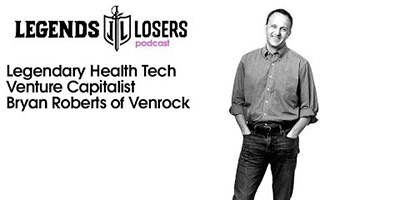 Podcast: Play in new window | Download (Duration: 59:28 — 54.5MB) | Embed
The two biggest problems our world is facing is education and healthcare. How can we better leverage advancing technology to improve them? What is the future of healthcare and biotech? What can make healthcare more efficient and personalized? On this episode, we talk to Venrock's Bryan Roberts, who shares his insights on these important issues.
Getting to the simplicity on the other side of complexity is an art form. – Bryan Roberts
It takes a decade to build a decent product
Some products get lucky and are able to make it within the 5-6 year mark, but for most products, a lot more time is required to achieve robustness, test it effectively and then prepare the market for it. For a product to reach simplification, time and effort is required. It's fair to say that a minimum of 10 years is needed, and in the event of a screw up, more time is required.
Building a healthcare product requires more time
In healthcare product creation, the penalties for screw ups are a lot higher, the sales cycle is slower, and there are more regulations at play. Additionally, the margins are pretty low because there are just so many people to serve. However the industry offers unique opportunities because of the slow adoption of technology and the need for resources.
The future of healthcare is speed, efficiency and personalization
In the current state of healthcare, companies are throwing people at the problem instead of leveraging the best technology that's available. In the future, we'll see a better application of tech and progress spurred on by more economic incentives. Additionally, things like x-rays will be done outside of the big healthcare system making things a lot easier for patients.
Technology will enable a more personalized way of treating patients, and that will also increase advocacy for each patient. In the future, we will see a dramatic increase in the use of data and technology to help patients get the most effective,and efficient care. Patient care will be done in lower acuity locations with a higher frequency. This is the kind of care that will improve quality of life, and bring healthcare into the 21st century.
Guest Bio
Bryan joined Venrock as a Kauffman Fellow in 1997. He is based in Palo Alto and invests broadly across the healthcare industry. Bryan is currently Chairman of the Board of Directors of Castlight Health (NYSE: CSLT) and Achaogen (NASDAQ: AKAO). He also serves on the Board of several private companies, including 10X Genomics, Doctor on Demand, Grand Rounds, Hua Medicine, Intarcia and Lyra Health and is a Board observer at CloudFlare. Bryan was named a Henry Crown Fellow by the Aspen Institute in 2006 and has ranked on Forbes' Midas List nine times, 2008 – 2017. Go to Venrock.com for more information.