064: Brewing Up A Category King: How Verve Coffee Mastered Their Category & Became THE Standard Coffee at Facebook, Amazon, Netflix & AirBnB
Thursday 20th June 2019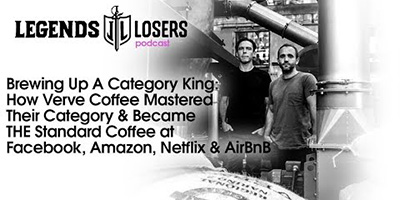 Podcast: Play in new window | Download (Duration: 55:33 — 50.9MB) | Embed
Most artisan businesses require the artiste to be there every single moment. How can this kind of business scale up to become dominant force in the market? What does it take to train people on the right values? How has coffee culture evolved over the years? On this episode we are joined by legendary entrepreneurs and Verve Coffee founders Ryan O'Donovan and Colby Barr who tell the story of their journey to become Silicon Valley's artisan coffee of choice.
We want the right people to feel confident that they are good at their job. – Colby Barr
Takeaways
Coming off as pretentious is usually from a lack of confidence, not from too much.
Good design is good business.
If employees are well trained, they can be confident in their job they will give the best service.
At the start of the show, Ryan and Colby shared on their beginnings as musicians and how they were inspired by coffee culture, and the different waves of coffee the market has seen. They also shared how they built a business that can scale and expand. Ryan and Colby also shared on giving up the CEO role and how that gave them so much more freedom. Towards the end of the show, we talked about building from the ground up, starting their business during a downturn and making their partnership work, "we've seen what the other side could look like and we don't want that in our company."
We also spoke about;
Barista culture and latte art
"We've got your back" decision making
Being seekers of truth vs. seekers of wealth
How institutions create communities
If you want to build your category and brand, it's all about who you associate with from the start, but having an excellent product is still highly critical. What makes Verve stand out is that it's founders are still in the trenches for their brand, they've built an institution that builds communities and they staff encourage autonomy and empowerment. It's an artisan business that puts a high-end customer service at the center of everything. Everyone in the business is confident in their training, the value of customer service and being a truth seeker over a wealth seeker.
Guest Bio
Ryan O'Donovan and Colby Barr are the co-founders of Verve Coffee, a third-wave coffee company. In 2007, Ryan and Colby built and opened the first Verve cafe on 41st Ave in Santa Cruz, California. Today, Verve has locations in cities from Los Angeles to San Francisco to Tokyo, but our roots remain planted in Santa Cruz, where we roast our coffee on vintage roasters and enjoy the endless surf of the rugged California coast. Go to VerveCoffee.com to learn more.