061: How Jon Vroman Built A Movement & A Company At the Same Time
Monday 20th May 2019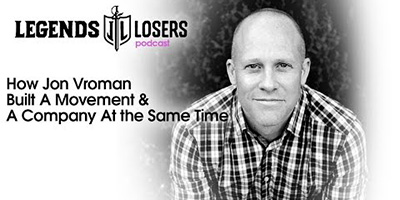 Podcast: Play in new window | Download (Duration: 1:50:10 — 100.9MB) | Embed
Self-awareness is a vital skill to have, especially in competitive fields and categories. Can you foster self-awareness and perception? Does mindfulness really work? How is practicing mindfulness similar to surfing and skiing? All these questions and a lot more are answered in this week's episode with special guest Jon Vroman, host of The Front Row Factor podcast. Jon will explain what differentiates him from other motivational speakers and how the Front Row mentality relates to category design.
It's about mindsets, relationships and environment. Those are the three factors and we need to have a hard look at those and say, what are those creating and do we like it? – Jon Vroman
Takeaways
Practice mindfulness in your day-to-day life. Learn to be present in the situation, so that when you get to your goal you won't regret the way there.
Keep a close eye on the people you're with, the thoughts you have and the environment you're in. If you don't like anything about any of these, change it.
Ask yourself what your biggest fear and greatest love is. It's what builds up your energy and generates your motivation.
Knowing that we want something or knowing that we have a goal that seems unattainable encourages us to fight harder.
We started off with Jon talking about his new book and his goal with moment-making. Jon shared his philosophy about fleeting moments and seizing the day. After a few examples, we also discussed staying focused on our own goals and identity, as well as practicing mindfulness. Jon pointed out that mindfulness can easily be integrated in your everyday life, and that relies on redefining your understanding of "critical". We then touched upon letting things pass and realizing that it's not your job to educate everybody. Jon then emphasized how important it is to regard three factors – mindsets, relationships and environment – and how they shape our personality. From then on, we moved on to discuss Jon's category design and what makes him different from other motivational speakers. Jon mentioned the role of charity in his life and he explained his path to recognition of life in the front row. We then moved on to mention a few examples of unique category design. We talked about how telling the correct story appropriately can build up the right motivation and design the correct category. Jon explained how discovering and telling amazing stories helped him develop his ideas, as they didn't contain a specific meaning, but rather they were very easy to interpret. We also touched upon the obligation we feel to offer advice in difficult times and how that's not always the right thing to do. Finally, we agreed that work life and personal life can exist together and that our family life can teach us a lot about our business and vice-versa.
In this episode, we also talked about;
Similarities between mindfulness and surfing
The cow in the parking lot as a zen approach to overcome anger
Controlling how we show up and create a better show
Making others' dreams into our goals
Fear as a motivator in life
Bringing energy from the past to shape the present and the future
Why Jon started The Front Row Dads
Achieving balance in your day-to-day life might almost seem like an unattainable goal. In today's digital age, it's very easy to feel trapped by your own environment and even develop a fear and dislike of what you may have been working so hard to create. If this happens, try to take a step back. Reevaluate your goals, your aspirations and your fears. When you take a step back and reevaluate the most important parts of your life, it's a lot easier to spot mistakes and work to fix them. This goes not just for your business, but also for your personal life. Learn to appreciate the success of others. Everybody wants to dominate the stage, but there comes one point in your life where you realize that it can't just be about you. Finally, never underestimate the power of a good story, but similarly, never try to warp a good story because you think it doesn't work for you. Stories have a power of their own and if you tell them right, they can speak in your favor.
Guest Bio
Jon Vroman is a motivational speaker, lifestyle coach and a seminar leader, who helps entrepreneurs, sales professionals and leaders come alive, find purpose and fully engage in their life's calling. Jon is also the host of The Front Row Factor podcast. He's the head usher for those that want to be in the front row of their lives so they can solve important challenges and elevate humanity. Jon has been voted Campus Speaker of the Year in both 2012 & 2013 by the Association for the Promotion of Campus Activities and also regularly engages in charity fundraising. To find out more about Jon's work, visit FrontRowFactor.com