059: An Unbeatable Mind – Navy Seal Mark Divine On Life, Business and Kicking Ass
Monday 20th May 2019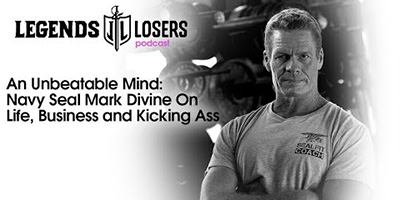 Podcast: Play in new window | Download (Duration: 1:06:41 — 61.1MB) | Embed
Most people struggle with meditation because they don't realize that it's a learning process. What are the levels you need to go through to master it? How do you manage to silence your inner thinker and gain valuable personal insight? What are the benefits of self publishing a book? On this episode, we talk to SEALIFT founder, bestselling author and former Navy SEAL Mark Divine.
If you're going to do a good martial arts program, there should be functional fitness baked into it. -Mark Divine
Takeaways
Meditation allows for the ability to stay disconnected and disassociated from the thinker inside us.
The way they teach police officers often gets them into trouble.
Self-publishing gives you the chance to build a platform, a business and books that live for a very long time.
At the start of the show, Mark Divine shared on going through CPA training and Navy SEAL training. He also shared how he got on the path to martial arts and meditation. We also discussed the success of his books, and the additions he's making to his original books.
Mark also shared on;
How to shift back to concentration during meditation
The advantages of self publishing
Finding the right martial arts training
The key to meditation is following your breath and your concentration, and developing the ability to escape the thinking part of your brain. It takes time to get to that level, so don't give up when you notice yourself thinking, all you need to do is shift back to concentration. Go through the process of first learning to concentrate and learning to disassociate from your active thinking mind, and then focus on concentration and then finally you will be able to get into that void.
Guest Bio
Mark is the founder and CEO of SEALFIT, and a highly sought after speaker, coach, author who makes frequent media appearances to discuss Seal way of life. Go to SealFit.com for more information.