058: One Woman's Legendary Startup Quest: With Michel Feaster
Tuesday 18th June 2019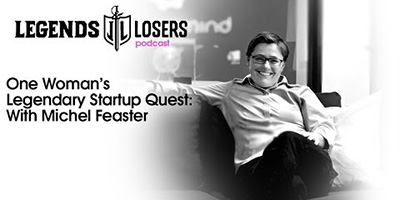 Podcast: Play in new window | Download (Duration: 1:46:01 — 97.1MB) | Embed
Customer service is essentially how every company is going to win or lose the next generation. Why is data at the center of winning in customer service? How does category design play out in the enterprise space? What does a founder need to be equipped with to lead well? On this episode, we are joined by the engaging Michel Feaster who shares on her career and gives insights on being a founder.
Data isn't the end game, the action of the data is the end game. – Michel Feaster
Takeaways
Doing customer service well is all about context and personalized relevant action.
Find the visionaries that will bet on you to make you a household name.
CRM is going to be reinvented and that the future is essentially all data driven and in real-time.
Categories are created when more than 3 big disruptions affect the same individuals in a company. Only then do you have a buyer who is under enough pain that they need to change the status quo, move money to the vendor and establish something new. Customer service will continue to determine the survival of companies and their ability to become category kings. To succeed, the data we have has to be put in the right context and it has to be put together in the context of workflow. This will make personalized relevant action possible and help brands win with future generations.
At the start of the show, Michel shared on the paradox of being a founder and how her company came into existence. Next, we talked about how categories are created, why the data conversation is useless without context and the importance of personalized relevant action. She also shared how therapy has helped her, how she worked her way up from working in a convenience store, and why secure leaders are so rare.
Michel also shared on;
Why customer service is the new battlefront
The struggles female founders face
Finding the right people to back your venture
Guest Bio
Michel is the co-founder and CEO of Usermind, responsible for company vision, strategic direction, planning, and execution. Michel's enterprise software career spans almost 20 years with roles in sales, product, strategic marketing, and general management. Before founding Usermind, Michel was VP of products at Apptio, where she drove product strategy, defined the category and discipline of Technology Business Management, and helped grow the company from 30 to almost 400 employees. Go to UserMind.com for more information.