051: Silicon Valley Venture Capital Young Guns – Matt Miller & Pat Grady of Sequoia Capital
Sunday 19th May 2019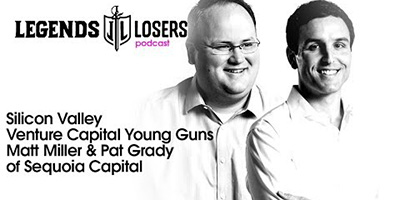 Podcast: Play in new window | Download (Duration: 1:48:17 — 99.1MB) | Embed
Being successful in business relies on resilience, passion and good ideas. What else makes a good entrepreneur? Does being a successful CEO require a solid business background? Where is that coveted stairway to success and is it really quite so straightforward? These are just a few of the questions answered by Pat Grady and Matt Miller, experts in discovering top-notch business ideas as partners in Sequoia.
The best businesses are, for the most part, people who experienced the problem, hated the problem, didn't understand why the problem hadn't been solved before, and just made it their mission to go out and change it. – Pat Grady
Takeaways
Not having a traditional business background isn't always a drawback as companies look for people from all walks of life to invest in.
Creating restrictions banishes creativity – an open mind will discover the CEOs who will bring innovation with them.
There's no recipe for being a successful entrepreneur, you just have to rely on authenticity and your passion for solving a particular problem.
First, Pat and Matt talked about Sequoia and explained Donald Valentine's unique approach and outlook towards business development and venture capital. They then also talked about their own backgrounds and the work they do within Sequoia. Pat and Matt also discussed some of their favorite projects they've been involved in it and their thoughts regarding the future of technology and what this might mean for the big category kings in business. We also touched on the correlation between the growth of the business and the speed of innovation – using the "Big Five" as an example. Finally, we spoke about the importance and resilience of microservices and how they benefit companies big and small.
We also discussed;
How a diverse, interesting background can make a successful CEO
The unique change of generations within Sequoia
How to start feeling comfortable when we're uncomfortable
The secret to Sequoia's success
Why it's better to focus on one project than spread yourself thin
Up-and-coming amazing categories
Authenticity is a key selling point for any business – it's not just about shoving your product in the faces of customers, it's making your product into an efficient magnet and then customers will want to be near it. You shouldn't allow yourself the luxury of whiplash as technology develops at amazing speeds but rather you should move along to keep up with it the best you can. That will only make innovation easier. Remember that there's no real, straightforward recipe for business success. The ingredients are fairly simple, however it's down to you as an ambitious business owner to figure out how they best fit together and when to utilize them. Ultimately, no category leader is reinventing the wheel; following your creativity, passion and knowledge for the problem you want to solve with your product will put you straight on the path to success.
Guest Bio
Pat Grady has been a Sequoia partner for ten years. He has graduated from Boston College and his scholarship was funded, partly, by Sequoia investments which signifies the importance of Sequoia's mission for Pat. He was a roofer in high school and during college and his first post-grad job was with inside sales, which he excelled at. Pat believes that every business is unique on its own and has a chance of becoming part of the wider context for the future. Read more about Pat's vision at Sequoiacap.com/people/pat-grady
Matt Miller has been with Sequoia for five years and he has always gravitated towards a future or a career related to technology. His fascination with the world of venture capital started at a very early age and once he started writing software, he never really looked back. Matt believes that every experience can teach you a valuable lesson and his motto is that no company or individual is too boring for Sequoia. Find out more about Matt's work with Sequoia at Sequoiacap.com/people/matthew-miller