049: Growth Hacking Market Categories w/ Eddie Yoon Part 1
Thursday 20th June 2019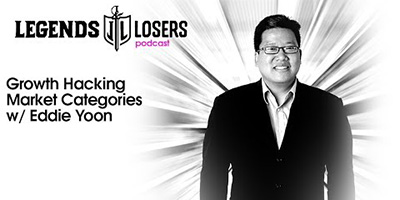 Podcast: Play in new window | Download (Duration: 1:17:46 — 71.2MB) | Embed
Creativity that leads to category creation is always a very valuable skill when developing your business. Who do you market this category to? How do you identify the people who are most likely to be engaged in your category? What makes super consumers so important on the way to evangelizing your category? No problem will remain unsolved with this week's guest, legendary growth strategist and motivational speaker Eddie Yoon.
You're not born a super consumer, you evolve into one. That evolution of how you became one has a lot of richness and insight for what you can do to crack the code on it. – Eddie Yoon
Takeaways
If you run a company and want to be a legendary category designer, become a super consumer of your OWN product first.
Anybody who takes the time to post about your product on social media are most likely a super consumer. Know how to identify them so you can target them properly.
When you frame the problem and the solution becomes apparent, this can be a very strong marketing strategy.
Your brand is a direct function of your category and it's the category that builds the brand, not the other way around.
We started off the episode by explaining Eddie's concept of the super consumer and how companies and entrepreneurs need to be mission-driven and have an insight around the problem. Eddie also shared how the shift from being passionate about your business to turning it into a job or a career can make the creativity and spirit in a good company die. He then shared some tips from his book Super Consumers on how we can identify our best customer segment. We then mentioned a few specific examples on how engaging with your super consumers can help you grow within your category. Eddie then used an example to point out how localization can help you grow a new product in your brand and that's a typical feature of many category kings.
Eddie then shared his opinion on using agencies and other third party companies to build a network of influencers. Afterwards Eddie gave a few examples about super consumers in the unique category of power generators and how that also pushes them to be super consumers in other categories. We then discussed the relationship between a brand and a category. Eddie then talked about his background and what it was that set him on the path of success. This led to a bigger conversation about adversity and how to target this appropriately throughout your life. Eddie then talked about his career at the HBR and how that's helped his understanding of business and marketing. We then mentioned the role of coincidence and how being in the right place at the right time can work out for you – the way it worked out for Eddie when he wrote his first piece about super consumers. We also mentioned about the benefits of being humbling and trading ideas freely. Finally, we talked about what the future holds for Eddie.
We also talked about;
The five indicators of a super consumer
The importance of local density and generating super consumers
Framing your product on the way to evangelizing your category
Creating a new, successful market from variations of your product
Momentum generating through local cultures
Eddie's top three tips on developing and designing your category
Upbringing and childhood effects on future success
Cultivating respect towards competition and how generosity can help a business
Every successful company and every category king has a strong, unifying mission statement. If the mission is gone, then a business can no longer function. Make sure that your mission is crystal clear and evident in everything you do and then know the right people to market it to. Because that mission identifies the problem that your business, or even your category, is trying to solve and without it, consumers wouldn't even know that there is a problem in the first place. Some parts of your market will always be more dedicated than others – these are the super consumers. Know how to recognize them and how to communicate with them, because losing even one or two can mean the end of your business. Most brands will wholly rely on their super consumers to generate revenue. Always look local as well – a wealth of local experience and influence is the biggest step on the way to evangelizing your category. Recognize influencers and network with them, you can either do that yourself or there are some very good agencies that can facilitate that. Last but not least, remember to stay humble. Don't let success get to your head and remember what your roots are and where you came from. Collaboration is endlessly more valuable than competition and it brings more experience, not just to you, but also to the world of business in general.
Guest Bio
Eddie Yoon is a growth strategist who has helped $5B+ in profitable growth for brands, companies and categories. Eddie has a wealth of experience and has conducted significant research, produced writing and is a motivational speaker on the topic of Category Growth and Category Creation. Eddie's mission as a founder of his newfound company, Eddie Would Grow, is to gather, synthesize and share compelling growth stories to draw patterns, build frameworks, and help teams chart a course to greater growth and prosperity. Find out more about Eddie's vision at www.eddiewouldgrow.net or follow him on Twitter at Twitter.com/user/EddieWouldGrow.