046: Becoming a Millionaire Millennial with Entrepreneur Matt Aitchison
Monday 20th May 2019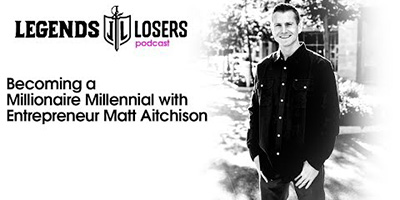 Podcast: Play in new window | Download (Duration: 1:48:51 — 74.8MB) | Embed
Being a successful entrepreneur can bring about a lot of benefits and generate a lot of profit. How can good mentorship help us break into a competitive field and create an entrepreneurial mindset? Can mistakes early in life set us back on our path? And if there's a mastermind in all of us, how can we utilize this on our way to success? Entrepreneurship guru and star of the Millionaire Mindcast Matt Aitchinson talks about this and much more, revealing the story of his own success and the best values an up and coming entrepreneur can harness to achieve success.
You have to weed your brain daily. You have to improve your environment daily. You have to be 1% better every single day. – Matt Aitchinson
Takeaways
Being wealthy doesn't just mean having a lot of money – healthy relationships, a good community spirit and good health are also wealth on their own.
Everybody makes mistakes, but how you respond to those mistakes is what defines your character.
Set a goal to be better tomorrow than you were today or the day before. Always strive for continuous improvement.
We kicked off the show by talking about Matt's mentoring and how he sees himself as more of a mentor rather than a coach or a teacher. Matt then also talked about his background and the support he has received to leave his days of dangerous living behind. We also discussed how going to college could benefit you and create healthy habits in your everyday business life. Another point we made was that there are people who get into entrepreneurship for all the wrong reasons. Matt then talked about the success story of his own podcast. We also discussed the best communication practices and the importance of having an authentic dialogue. At the end, Matt and Chris talked about the significance of our mindset regarding money and the way a good or bad financial situation can affect your life.
We also talked about;
How your environment and the people you're with defines you
The issues with the work-life balance model
The appeal of entrepreneurship
Factors causing a decline in entrepreneurship in today's age
The importance of surrounding yourself with experienced mentors
How to stay focused on a goal but also enjoy the journey
Regardless of your start in life, there are always ways to redeem yourself and take your skillset to its full potential. Even if you make a mistake, it's important to readjust your mindset and surround yourself with the right people, who will motivate you and support your goals in life. Entrepreneurship is a good way to follow your dreams and knowing what you want to change about the world. Be honest about your motivations, whether financial or not, and get better at what you do. It's important to choose your mentors well. A mentor should have experience to show, not just a sound understanding of theory. Learning through mutual experience can be very enlightening.
Guest Bio
Matt Aitchinson is the CEO and President of Vault Investment Properties, LLC. Based in Sacramento, Vault Investment Properties' mission is to redevelop housing via real estate investments and throughout the community. Matt is also the star of The Millionaire Mindcast, a podcast that can give you the knowledge necessary to take your entrepreneurial skills to their full potential. Matt's philosophy is pursuing legendary leadership which goes hand-in-hand with any strong, scalable organization. Find out more about Matt, The Millionaire Mindcast and his ideas at MattAitchison.com.