040: Becoming Really Famous Really FAST: How Surfer Zoltan Torkos Outshined Kelly Slater for 2 Weeks
Sunday 19th May 2019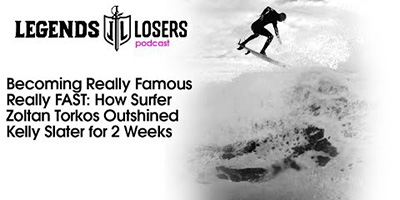 Podcast: Play in new window | Download (Duration: 37:09 — 17.0MB) | Embed
With the surf kickflip, Zoltan Torkos went from surf news, to local news to national news and even to international news. What was the experience of becoming a sensation like? Why does he surf and enjoy teaching other people to surf? On this episode, we are joined by the man himself, the magician of surfing – Zoltan Torkos!
I think I'm a revolutionary surfer, and I should be out surfing and I shouldn't be at school. – Zoltan Torkos
Takeaways
Helping other people become better surfers is organic, and something that helps Zoltan connect with the ocean.
There's serious stuff going on in the world, surfing should be mellow, and people shouldn't take it too seriously.
When you're surfing, you're only competing with yourself, no one matters.
At the start of the show Zoltan talked about doing the surf kickflip, and the media sensation that happened after the video was uploaded and what Tony Hawk had to do with that. Next, we talked about his experiences after that moment, how he wanted to be the Evel Knievel of surfing and who he looks up to in the surfing game. Towards the end of the show, he gave us a magic trick!
We also spoke about
How the surf kickflip revolutionized surfing
Why it's important to be nice to people in the water
How to be the best surfer in the water
A lot of people take surfing far too seriously, and start to look down on people who aren't as skilled as they are. This takes away from the fact that we have to be there for each other and just have fun. You can't be defined by the conditions, your equipment or whatever your skill level is, just get in the water and enjoy. If your surfing sucks, blame it on the board!
Guest Bio
Zoltan is a fourth generation magician, he performs in a realm beyond playing cards and rabbits in hats.  He brings magic to the art of surfing and a passion for change that is rare and sincere.  Born and raised in Santa Cruz, Zoltan recently made international headlines as the first person to be filmed successfully completing a kickflip while surfing. Go to for more information ZoltanTorkos.com.