039: Shaping A Legendary Business & A Legendary Life w/Quatro's Master Shaper Keith Teboul
Thursday 20th June 2019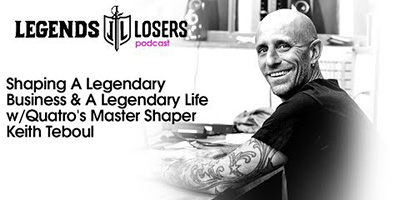 Podcast: Play in new window | Download (Duration: 1:09:41 — 31.9MB) | Embed
We're in the era of widening appreciation of athletes who have broad capabilities. What lessons should younger athletes learn about life after all the games? How do people create a legendary business and a legendary life with your spouse? On this episode, we're joined by all round waterman Keith Teboul who shares on coming up, losing it all and staying humble.
It's the evolution of opportunities that came to me that I was able to see and take advantage of. – Keith Teboul
Takeaways
Athletes struggle to transition into civilian life because they've had to be super focused on that one thing for a long time.
If you're married to a wonderful woman, accept that she's going to be right most of the time.
There's more to life than being an athlete.
At the start of the show, Keith shared on going to Marshall Islands and why he likes going there so much. Next, he talked about transitioning to civilian life as an athlete, and why so many people struggle with it. Keith also shared how bankruptcy affected him, and what he's looking forward to in his future.
Keith also spoke about;
Why staying open minded is super important
Being married to a fellow entrepreneur
The importance of quality relationships
People want to be a part of something, and the people we look up to are here to provide that. Humility is important because that's how they treat all they have with respect. For Keith, his happiness comes from making other people happy. Things in life, aren't just meant to be, you have to see the opportunities and make choices. It's important to enjoy your day and what you're doing.
Guest Bio
Sixteen dedicated years of playing with concaves, rails, rockers and fin set ups have earned Keith Teboul an undisputable reputation as one of the world's top shapers. Keith's skills on the water are equally impressive, widely respected for his progressive, fluid style, it is safe to say that Teboul is one of the major driving forces behind modern wave sailing today. Go to QuatroWindSurfing.com for more information.