037: The Amazon Way: How John Rossman Designed the SECOND Amazon Category King w/ John Rossman
Monday 20th May 2019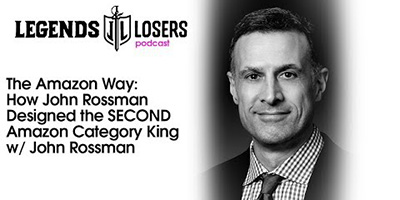 Podcast: Play in new window | Download (Duration: 1:22:31 — 37.8MB) | Embed
The networked economy creates abundance, not scarcity. Why is Amazon such a shining example of a company that managed to dominate within an abundant ecosystem? What opportunities can we create when customer experience stretches across companies? What are the opportunities that IoT has for leaders? On this episode, author and consultant John Rossman shares his insights, and gives us a look into what has made Amazon so powerful.
A platform business is a core capability that you could let others use to serve customers, they can leverage the business and innovate on top of it. -John Rossman
Takeaways
Internal customers tend to be non-demanding customers.
The best customer experiences now span across multiple companies.
Malls have to become about experiences, shopping needs to become an afterthought.
Amazon won shoppers over by taking ownership of and accountability for the vendor-consumer relationship.
At the start of the show, John shared on being a consultant and why it's different from being an "insultant". Next he talked about the power of asking questions and what Amazon gets right, "while they are a financially aware company, they don't do anything based on financial measures." We went onto discuss platform businesses, how category kings create ecosystems, and the near-term opportunities IoT provides. Towards the end of the show, we discussed the "future press release".
We also spoke about;
How the networked economy creates abundance
The power of taking responsibility for the customer experience
Self-publishing on Amazon
The importance of writing a narrative
A platform business allows a company to leverage the innovation, intent and skill force of lots of others without having to pay or direct them. The result of this is more creation, collaboration and the solving of problems and possibly the creation of categories. When a company allows this to happen, people have the freedom to try new things, and the market benefits. Leaders should ask themselves how to make their core capabilities good enough to be externalized.  The near-term opportunity for leaders when it comes to IoT is improving the programs you have by infusing more data with it.
Guest Bio
John Rossman is the author of The Amazon Way: 14 Leadership Principles of the World's Most Disruptive Company, and a Managing Director with Alvarez & Marsal in Seattle, specializing in technology strategy, multi-channel operations scaling and platform enablement in multiple industries including retail, service and public sector. Go to AlvarezandMarsal.com to find out more about John's work, or JohnRossman.com/legends.