035: Design: Legendary Products, Brands, Businesses & Lives w/ Dennis Boyle of Ideo & Peggy Burke of 1185
Monday 20th May 2019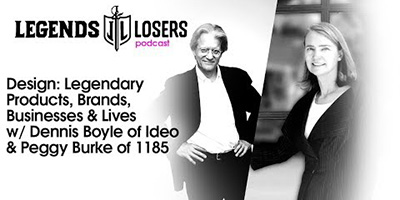 Podcast: Play in new window | Download (Duration: 1:40:04 — 91.6MB) | Embed
We're living in a time where people are concerned about machine learning and AI. Why are there more upsides than downsides? What is the opportunity for entrepreneurs as we look into the future? How can two people building big businesses have a beautiful marriage and partnership? On this episode, Peggy Burke and Dennis Boyle talk about designing their businesses and how they got to where they are today.
What's going to happen is like opening up the black box and all of this incredible inspiration is going to come out as a result. -Peggy Burke
Takeaways
Working couples: you have to get help and you have spend time with each other, if you don't, you won't make it.
If you hide your knowledge, it won't to be as useful as when you spread it.
Radical collaboration: work closely with the internal team, they understand how the process works.
At the start of the show, Dennis and Peggy shared how they met, the history of their companies, and how they were able to raise their family while building their companies. We also spoke about radical collaboration, and taking time to get used to new technologies, and why nice guys actually finish first.
Dennis and Peggy also spoke about;
The impact the agility of IDEO has on the business
The processes and culture of 1185
The upside of technologies like AI and machine learning
The power of building an artist-patron relationship with clients
The biggest opportunity for entrepreneurs, looking into the future is tapping into the labor force that is most likely to lose their jobs and turning it into a happy, fulfilled part of the population. The solution isn't socialism, but rather it's entrepreneurism. IDEO and 1185 have stayed in business as long as they have by differentiating on their intellectual capital and doing really good work. As an ambitious couple, you have get help because you can't be super humans all of the time. That's how Dennis and Peggy built such a legendary life!
Guest Bio
Dennis Boyle is one of the founding members of the design and innovation firm IDEO and has worked as a project leader for many of the firm's start-up and established clients including Apple, Palm, Tivo, Handspring, HP, Dell, Procter and Gamble, and others. Dennis is now one of the leaders of the Health and Wellness practice at IDEO. Mr. Boyle is also a Consulting Assistant Professor at Stanford and teaches classes in the Design Division of the ME department. Go to Ideo.com/people/Dennis-Boyle for more information.
Peggy Burke is the founder and CEO of 1185 Design, an award-winning graphic design firm specializing in corporate branding, websites and packaging for high-tech firms. She has done extensive work for Fortune 100 companies including Adobe Systems, Cisco Systems, IBM and Sun Microsystems. Go to 1185design.com for more information.